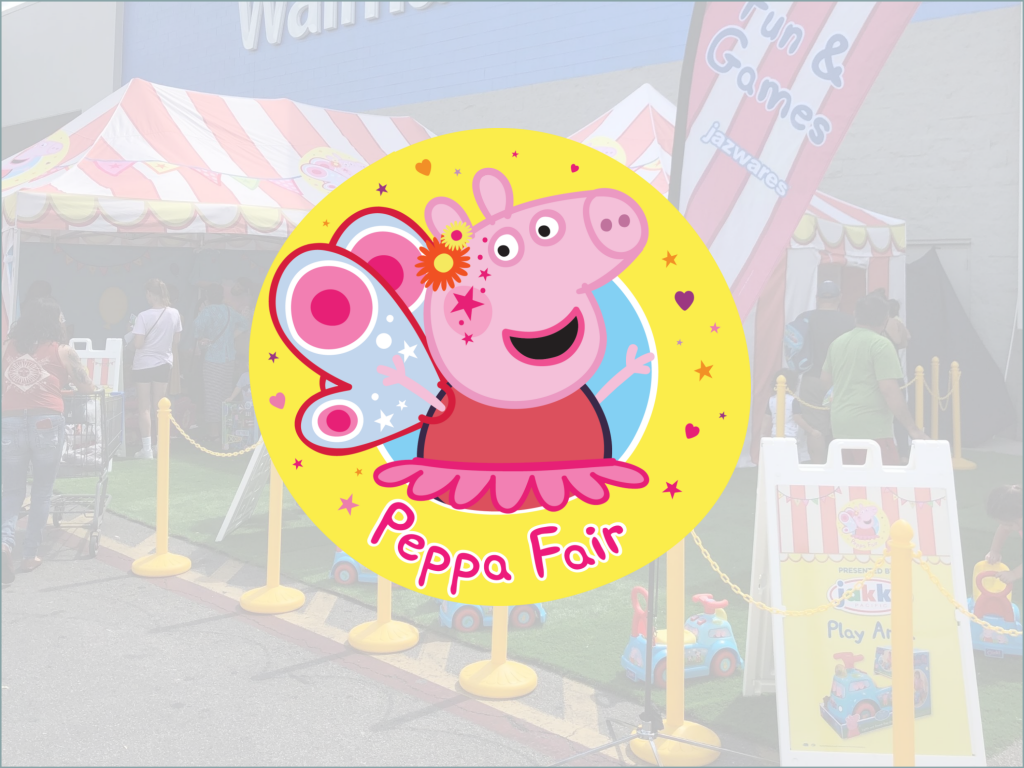 Peppa Pig Program Highlights:
EMG executed a 16-city tour at various Walmart parking lot locations, to host and celebrate eOne's PEPPA FAIR!  The pop-up fair ran in select Southeast markets in the US and ran over a four (4) week period.  The fair included Peppa Pig meet-and-greets, activity event areas, giveaways, opportunities to purchase branded merchandise, and a dedicated Peppa Pig episode-watching area presented by TCL with featured TCL televisions where children where able to rest, enjoy, and watch the latest Peppa Pig programs.
The Peppa Fair included two exclusive sweepstakes giveaways for parents, one to win tickets to the Peppa Live! tour and the other to win Peppa Pig Prize Pack.  Each guest that attended Peppa Fair also received Peppa ears and a swag bag. The campaign was supported by radio and TV promotions executed in the corresponding tour markets.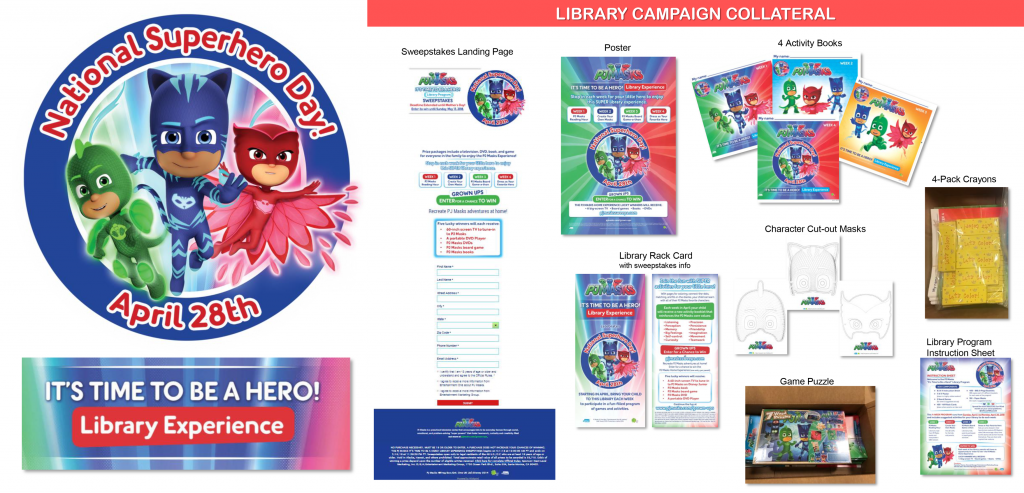 "It's Time to be a Superhero"
PJ Masks - Program Highlights
EMG executed a PJ Masks It's Time to Be a Superhero national library program with Entertainment One in 215 library locations across the nation in support of National Superhero Day on April 28th, 2018.  The program ran over a FOUR (4) week period and provided libraries with activities for kids that included FOUR (4) distinct PJ Masks It's Time to Be a Superhero activity books, PJ Masks character cut-out masks, puzzle games, and for parents, a PJ Masks Home Experience prize pack sweepstakes to continue the celebration at home.  Prize pack included a 60" Smart TV, PJ Masks Board Game, PJ Masks DVD Set, portable DVD Player, and PJ Masks Book Set.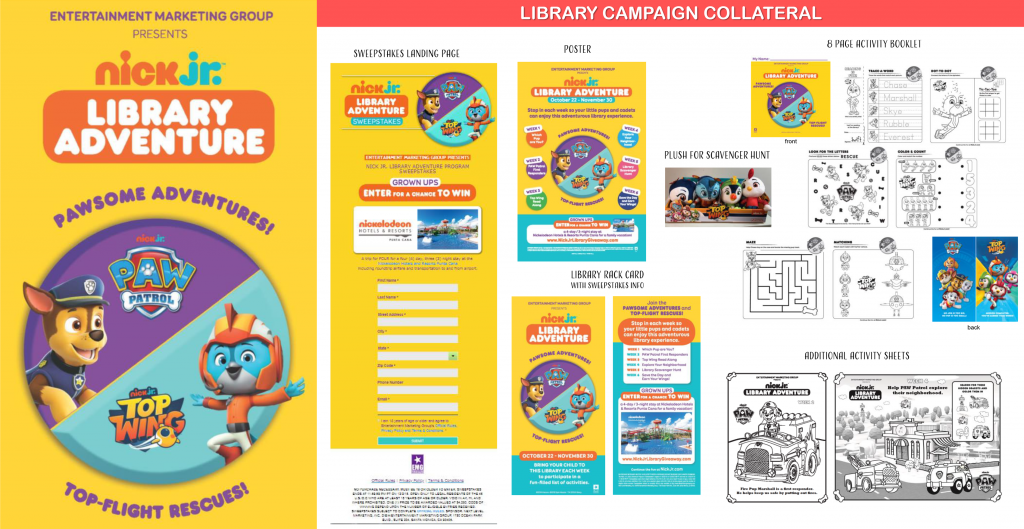 Nick Jr.
Library Adventure
Program Highlights
EMG executed a Nick Jr. Library Adventure Program in 205 library locations across the US to promote the PAW Patrol and Top Wing brands.  The program ran over a SIX (6) week period and provided libraries with weekly activities for kids that included Paw Patrol and Top Wing book readings, an 8-page custom activity booklet, Top Wing plush toys, additional activity sheets, and for parents, a sweepstakes giveaway trip for a family of four to Nickelodeon Hotels and Resorts, Punta Cana!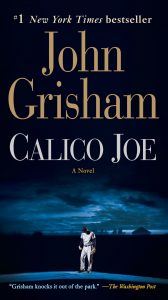 Baseball Jumbotron Promo Overview
EMG executed a baseball stadium promotional campaign for John Grisham's Calico Joe paperback book by partnering with major league and minor league baseball stadiums/teams to create a co-branded campaign on jumbotrons to promote the release. A prizing partnership was established with Louisville Slugger and Rawlings to supply baseball bats and a signed Grisham baseball as prizing for the promotion. EMG also secured sixteen (16) radio stations and one (1) syndicated radio network to support the promotion in each baseball market.
DESPICABLE ME DVD RELEASE
NBCUniversal and Frontier Airlines Partnership Campaign
NBCUniversal and Entertainment Marketing Group (EMG) took a grassroots approach in partnering with Frontier Airlines for the Despicable Me DVD release executing "field activities" at select participating Frontier hubs with the Minions characters for the holiday season. Airport hubs included: Denver, Orlando, Chicago, Philadelphia and Atlanta. EMG also executed local radio and television campaigns in the five select markets in support of the field activity and PR stunts. Program activation included three "Minions" stationed at gates and other locations to greet passengers, hand out goodies to children (i.e. stickers, candy, etc.), to create a viral buzz/excitement via social media and bring awareness to the DVD release.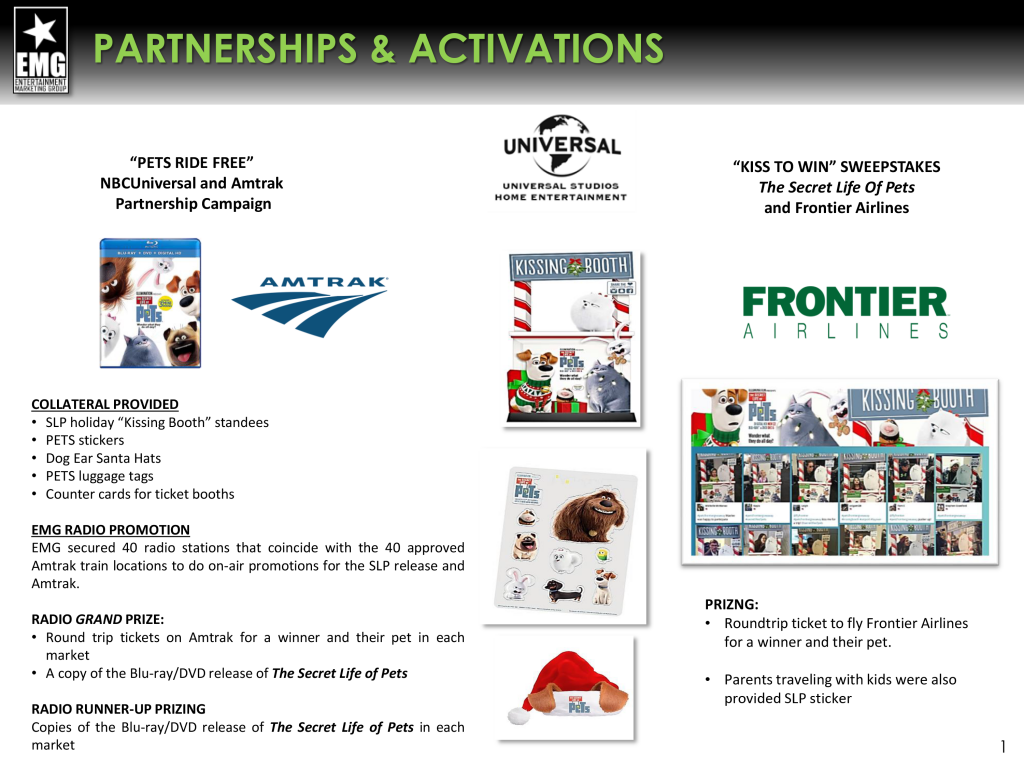 "PETS RIDE FREE"
NBCUniversal and Amtrak
Partnership Campaign
The "Pets Ride Free" holiday campaign was a partnership created by EMG, with Universal Pictures Home Entertainment and Amtrak to highlight the Blu-ray/DVD release of The Secret Life of Pets (SLP) and Amtrak's pets program.  The promotion ran at 40 participating Amtrak locations, where SLP collateral and swag was positioned at stations.  The first 2000 individuals that booked a reservation won roundtrip tickets for themselves and their pets. Awareness for the campaign was supported by on-air radio promotions with additional giveaways for both SLP and Amtrak's pet program along with press releases, PR, social media, and across other platforms. In addition to the "Pets Ride Free" program with Amtrak, EMG also partnered with Frontier Airlines in doing social media promotions at airport gates with a holiday branded Secret Life of Pets- kissing booth standee. Guests at participating Frontier Airlines' gates that posted a picture of themselves to Instagram or Twitter at the Secret Life of Pets "kissing booth", using the hashtag #PetsFrontierGiveaway #Sweepstakes, were entered for a chance to win a roundtrip ticket to fly Frontier Airlines for themselves and their pet.  Parents traveling with kids were also provided SLP stickers while supplies lasted.